It's been months that most of the Philippines has been ravaged by drought, leaving millions of our countrymen — especially farmers — trying to recover from the ill-effects of the now degrading El Niño.
The recent afternoon rains that have begun to fall in various parts of the country are currently providing relief. However, we must not ignore the warnings that come with these blessings which are now being showered upon us.
Is it falling on your head yet?
A few elements are falling into place to bring about the end of the hot, dry summer days.
First, a lot of moisture building up from the west helped develop a moist atmosphere causing the afternoon thunderstorms and rain showers in some parts of the country.
Second, the inter-tropical convergence zone (ITCZ) over Mindanao has caused significant variability in the country's weather and has brought rain showers and thunderstorms for the past couple of weeks.
Last, the wind has shifted in a southwesterly direction over the West Philippine Sea, bringing in more moisture to the western parts of the country in the last few days.
These elements signify that the rainy season has begun.
On top of these, there are other things that we all must watch out for – Habagat (Southwest Monsoon), ITCZs, low-pressure areas (LPAs), and tropical cyclones (typhoons, tropical storms, tropical depressions).
With the looming La Niña, our usual rainy season will be amplified towards the second half of the year, increasing the potential of floods, landslides, and heavy downpours.
Time to talk rain
It's never too early to start preparing for the rainy season. Here are some tips: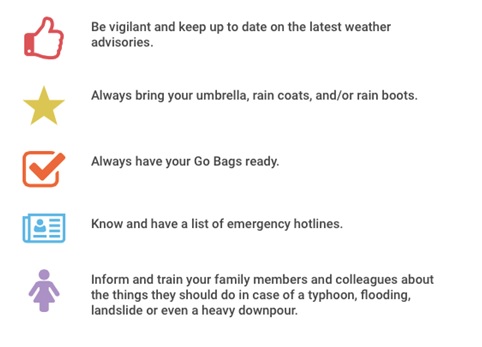 There are many other ways to prepare for the coming rains, and there is no reason not to be prepared.  It all starts with knowing what's coming.
So be aware. And choose resilience.
---
RELATED: Rhythm of the falling rain; Through the rain